College of Illinois Scientists Provide Us Little Known Ways
to Produce More Effective Pv panels
Teen Choice Award
goes Green-Solar Energy
Charge iPhone with
Solar Energy
How to Charge an iPod
with Solar Power
Charging iPod with
Solar Energy, videos
Backpacker's Magazine
Editor's Choice 2008
Acupuncture Los Angeles
Acupuncture Los Angeles
Acupuncture for Weight Loss Los Angeles
Acupuncture for Back Pain Los Angeles
Acupuncture for Allergies Los Angeles
Acupuncture Infertility Los Angeles
Acupuncture for Back Pain Los Angeles
Chiropractor Los Angeles
Chiropractor Los Angeles
decorative fireplace screens
Fireplace Screen Doors
Fireplace Screens
Iron Fireplace Screens
Custom Fireplace Screens
How to keep your EL8 Headlamp and your iPod 4GB or 8GB charged while solo hiking for a month
This is the full story on how the USB adapter that, in combination with the EL8 Headlamp,
charges iPods, was developed, as a response to an experienced hiker's need, who was doing a solo month-long hike in the Sierra, looking forward to "no hassles with headlamp batteries", and "could bring some music (iPod 4GB or 8GB) was really appealing".

This picture is from a couple of hikers, that went for an extended hiking trip, about 4 weeks, bringing two EL8 headlamps, one solar panel, an EA6 USB adapter, and of course an iPod video 80 GB!!!
Dear Carlos,
I've returned from my wonderful hike: From Bridgeport, on the east side of the Sierra, just below Sonora Pass, to Mineral King. 270 miles, 25 days, 12 passes, all solo and incredibly wonderful.
My headlamp and the charging system for the iPod worked great. I tended to use the iPod for only a couple hours or so (and not every day), and I didn't bother trying to play and charge at the same time, though you sent me the equipment to do that. It seemed too complicated. Instead, I discharged the lamp into the player (charged iPod) in the morning , then played the iPod and independently I charged the lamp. I tied the panel onto my pack on the left, center, and right, as I was walking south and that was the way to keep the panel perpendicular to the sun. At the end of the day, it was fully charged, and probably finished charging before that, but I didn't bother taking it off.
I got some pretty envious looks from fellow hikers as they saw first the ear buds, then the iPod clipped to my sternum strap, then the little panel tied onto my pack!
One thing puzzled me: I noticed that the jacks, for both the panel and the converter, would not fit flush into the lamp. On both jacks, there's about 2 mm. of shaft that doesn't fit down into the female part in the lamp. I couldn't remember if this was always so, and at first it worried me, but the charging and discharging worked, so I guess it wasn't a big deal. But I'm curious whether this is normal.
I didn't bring a camera (my pack weighed at times over 60 pounds), but a hiker took some pictures of the panel and said he'd email them to me. If I get them, i'll send them to your to post if you want to.
Thanks again for your help and patience all this time.
Yours,
Janet
Janet, thank you so much for your tips! I will add them as soon as I have some time. Please, let me know when you get the USB adapter, and you try it with your iPod(s). Second iPod charging suggestion: Use the OPTION 7: Charging an iPod nano 8GB, from the EL8 Headlamp and Solar Panel at the same time, only when you are resting, etc., (not while walking). Since it will give you just a 20% more charging time "WHEN SOLAR PANEL IS PERPENDICULAR TO SUN LIGHT", it won't help much when walking (hiking). You can charge headlamp with solar panel, at any time; again, charge will be maximum when solar panel is perpendicular to sun light, but ANY sunlight will charge headlamp successfully.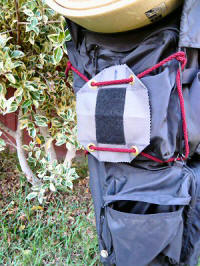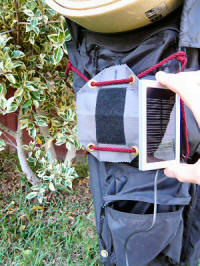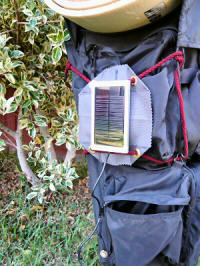 Solar Panel Holder, by Janet P., placed on the side of my back pack,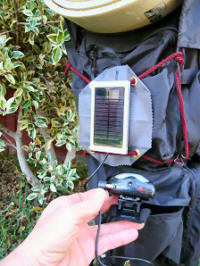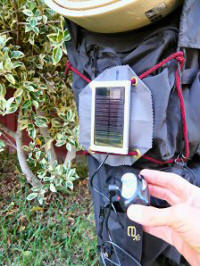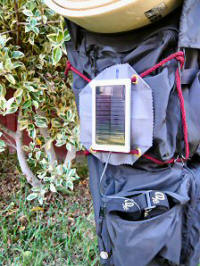 then connected to the EL8 Headlamp to charge it while hiking, and placed inside a pocket
Carlos
---
Carlos, your tips are very clear. If you want to add some information on attaching your solar panel to your backpack, here is some text:
To attach your solar panel to your backpack, make a fabric holder for the panel, which you can tie onto your pack at a convenient place. Here's what to do:
1. Take a piece of sturdy fabric (heavy weight Cordura is ideal) and measure 3 inches longer, and wider, than your solar panel. Finish the edges by hemming them, covering them with bias tape, or using a "pinking" shears (cuts cross-cuts that won't unravel).
2. Purchase a piece of Velcro that will stick to the Velcro that's already glued to the back of your panel (for new solar panel models you can use Velcro with sticky back and attach it to the back of the solar panel). You'll need the "fuzzy" side. You can find it at sewing stores or outdoor stores. Cut the Velcro to match the piece on the back of your solar panel. Do not use the sticky-back piece that Everlite sent you with your panel: It will come away from the fabric with the heat of the day, and you cannot sew it down (your needle will become hopelessly full of adhesive and snarl your sewing machine).
3. Sew the Velcro into the center of your fabric. Pay special attention to tack down the corners well.
4. At each corner of the fabric, attach a grommet (if you have a kit), or simply sew down a foot or so of flat nylon line.
Now you have a sturdy attachment piece, which you can tie onto your pack at a convenient place. If you place a tent on the top of your lid, tie it over the tent; if you don't, just tie it to the lash points on your pack. No matter what you have on your pack, and where the attachment points may be, with four ways to tie-down your panel, you'll be all set.
---
Janet,
Your question is not dumb, but a great one! I will add it with the answer, in a special Support Forum Answer and Questions, very soon. I also used your story (not your name) that helped us to develop this USB adapter to charge iPods.
Yes you can play your iPod at the same time it's charging.
Please, follow this link that has some tips for hikers. I will add some more soon (like how and when to use the solar panel and headlamp together).
http://ipodchargingtips.solar-led-flashlight-usa.com/hiking_backpacking_iPod_tips/hiking_backpacking_charging_ipod_tips.htm
What a coincidence, the iPod nano 8GB Red that you see in my videos, is the one that my kids (three) and I gave to my wife for her birthday last February! Looks like the iPod 8GB is the "Moms iPod". She also has audio books, webcasts, and music, and still a lot of free space!
Carlos
---
Good afternoon Carlos! How nice to get your message. Clearly, options 6 and 7 are for me. Incidentally, my husband and children gave me an iPod 8 for Mother's Day, so I'm really set with lots of music (and books on tape).
I'm looking forward to getting the adaptor and trying it out. I appreciate your warning about directly exposing the flashlight to the sun. I wondered about that -- I, too, placed the panel on the patio on a hot northern CA day, but I tucked the flashlight behind it. I guess I didn't damage it, because it works. I hope that if I tuck it into my pack, it will stay cool enough (if it's that hot at 10,000 feet, more than my flashlight is going to have problems!).
This is a dumb question -- can I play the iPod at the same time it's charging? You can see, I'm a novice at this.
Be sure to let me know which Nolo book you'd like. I'm also going to send you my prototype for the fabric solar panel-holder that I designed for the panel. It has its own Velcro sewn down, plus grommets for lashing the piece to my pack. I tried it out last weekend (quick trip to the Lost Coast), and it fit fine. I didn't have a camera -- but I promise a picture from my Sierra hike.
thanks so much for your efforts and good cheer -- Janet
---
Hello Janet!
I mailed USB adapter that works great with iPods, today! You mill get it around Wednesday.
I published a video today with the same USB adaptor I mailed, and with the same iPod 4GB (silver) you have. You can watch it at:
www.solar-led-flashlight-usa.com/charging_ipods/charging_ipods_01.htm, towards the bottom of the page, Option 6.
I will e-mail you some tips for your hiking trip, later on. Basically that video shows the most simple and recommended charging configuration. You won't need to charge your iPod every day.
Carlos
---
Carlos, thanks for the update. I look forward to testing the iPod-panel charging configuration. Let me know when your video is up. Best, Janet
---
Janet,
I finally unveiled the mystery of charging iPods with the EL8!!!
4Gb iPod takes two to three full charges of headlamp alone (not paired with solar panel yet). That means you will be able to easily keep your iPod alive during your month long hiking trip!!! Since Music playback time is about to 24 hours when iPod is fully charged, 1/4 of charge will give you about 6hrs of music. I hope you wont be listening more than that a day!
I still have to try headlamp plus solar panel, which should give more charging power. I will publish these results in my website over the weekend.
I omitted something very important, that was your very concerned when you read in my site: "a 4Gb iPod nano can drain completely the battery charge of the EL8 Headlamp in about 10 to 15 minutes"; I forgot to add "when EL8 headlamp is not fully charged"
I'll keep you informed, and I will mail you the USB adapter next week, after I finish my testing.
Thanks to your original inquire; we went l long and very positive way into charging iPods with the EL8 headlamp!
Carlos
---
That sounds fine, and thanks again. I await your results.... :) Janet
---
Janet,
Good thing I asked you which iPod you have!
I'm testing all these iPods to find out exactly, the capability that the EL8 (headlamp & solar panel) has to charge them. Let me do some more testing with the 4GB iPod, until I find out if with that charging configuration, you can keep you iPod "alive" for a month.
The manufacturer just mailed to me the new headlamp and solar panel, like the one you have, to test it on my iPods. I also have a 4Gb iPod, so I will find the solution to your needs!
I'll keep in touch. I will delay the mailing of the USB adaptor, to complete my testing.
Carlos
---
Good morning Carlos. I have the 4GB iPod nano. And I have a question about this paragraph on your website:
2. A 4Gb iPod nano has a much greater battery capacity, therefore an equivalent charging power demand. Preliminary tests, showed that a 4Gb iPod nano can drain completely the battery charge of the EL8 Headlamp in about 10 to 15 minutes, providing about 1/4 of the battery charge this iPod needs.
If this is so, what does this mean for me when I'm in the mountains for a month and have completely drained the iPod? Is it possible to completely charge it up using any of the configurations you've discovered? In other words, as long as I'm willing to leave the charging setup in place all day as I walk, can I eventually end up with a completely charged iPod?
As ever, thanks so much for your advice and all the work! --Janet
---
Janet,
I made three new videos using the USB adaptor I will mail you soon:
http://solar-led-flashlight-usa.com/charging_ipods/charging_ipods_01.htm
You can see how the USB adapter charges two different models of iPods.
Could you please tell me what iPod model do you have? I would like to test the charging configuration that best serves the iPod you have, and post the results in my site.
Carlos
Janet, Thank you and I will
Carlos
---
Carlos, congratulations! I'll look forward to your video. Thanks, and let me know which book you'd like. --Janet
---
Janet,
I'm very pleased to tell you, the assembly using a "modified" USB adapter and the iPod's USB cable, works perfect! I just tried last night.
I will make two or three videos showing how it works, over the weekend, and I'll mail it to you next week.
You'll be the very first person to have this slick, simple, and light weight system to charge iPods, especially designed for hikers/ backpackers/outdoors people.
Carlos
---
Hi Carlos! I meant to reply earlier. I loved you video. The new configuration you describe sounds very promising. It would be great not to have to lug the converter into the mountains.
II will surely wait until next week (I don't start my hike until mid-July).
Thanks again for the help, and I promise some pictures of my panel on my pack.
Yours, Janet
---
Janet,
I contacted owner/inventor of the EL8 Headlamp today. He is sending me a new USB adaptor next week. I will try a new configuration to charge iPods that will include:
1. Headlamp
2. USB adaptor (lighter and smaller than 12 Volt Converter
3. iPod USB cable (the same one you use to sync it to iTunes)
4. Your iPod
With this assembly you don't need iPod's car charger. Itís also much lighter than the one using 12 Volt Converter.
If you could please wait until some time next week, I will ship you this USB adapter instead of the 12 Volt Converter.
I quickly checked Nolo website, and I found the Patent books!
Carlos
---
Janet,
Thank you so much for your book offer; I'll definitely take it! (Is there any book that talks about patents by any chance?) I'll take a look to the website and I let you know my choice! I really believe and love to interchange services and help!!!
I made a short video for you to see, showing the dual-charging method, and posted in my website:
http://solar-led-flashlight-usa.com/charging_ipods/charging_ipods_01.htm . The first video. If I have time I will add the written instructions.
I will also look into another way to charge you iPod, using the USB cable instead of the iPod's car charger, and an USB adapter. I'll let you know. (As you can see, I have a teacher's soul! I tough electronics for 10 years in a trading college, and I love to explain people how things work)
As a result of your inquire, I will add a page on my website "for hikers only".
My address is
5469 W. 121st St.
Hawthorne, CA 90250
I'll keep in touch, and thank you once more for your generous book offer!
Carlos
---
Carlos, your offer of a free converter is great. Let me suggest an exchange: I know a company that publishes books for consumers on how to handle legal and other issues themselves, without a lawyer. We have a lot of books for small business persons, like you. Go to www.nolo.com, find a book that you'd like, and I'll mail it to you.
My address is
XXXXXXX
XXXXXXXXXXX
XXXXXXXXXXXXX
I'm afraid I'm not taking a camera on the hike -- it's 300 miles, with only one resupply spot, so I have to be careful with weight. I will, however, take some shots of the panel lashed to my pack at home (in the backyard, looking authentic) and I'd be happy to send them to you.
The dual-charging method you describe sounds neat. I will definitely try it.
I've given some more thought to my attachment system. I might look for some material like a sturdy fishnet, which I can sew into a sleeve, and put Velcro on the open end to seal the "envelope." That would give me a very secure holder for the panel, and I could use small caribiners to attach it to loops or straps of the pack. This also gives me maximum flexibility, because I can clip the caribiners to any place on the net.
Send me your address, and thanks again for being so incredibly helpful.
--Janet
---
Janet,
I didn't realize you have the Headlamp-Solar Panel already! The $71.50 is the price of both: EL8 headlamp+12 converter or charger (both converter or charger are the same, they name it differently).
The retail price I was given is $16.95, Real Goods has it at $12.00, but if you send me your mailing address, I'll send it to you for free!
Are you bringing a picture/movie camera to your hike? If you do, do you mind to take some pictures when charging your Pod in the wilderness, or a short video, and send them to me? I am helping the inventor and owner of this ingenious and environmental headlamp to promote it, by posting pictures and videos on how to use it. This is not a catch for sending you the 12 Volt Converter to you. I just love to show hikers using the solar panel charging iPods!
Scratch on the panel is not important. If the straps do not cover a significant area of the panel, it shouldn't be any problem. I like your panel attaching system. Definitely I would like to have a picture of your panel attached to your back pack.
I have another wonderful idea, I just tried it last weekend. You can charge headlamp and iPod at the same time! while walking - hiking, or when resting. 12 Volt Converter comes with a "T" adapter. Set up is as follows ( I will make a video and send it to you):
1. Solar panel connected to one female end of "T"
2. Other female end of "T" to 12 V converter
3. Male "T" to headlamp
4. Plug iPod car charger to 12 V converter
5. You are charging both devices: headlamp and iPod!!!
What about that! Headlamp is so efficient, that you do not need so much charging.
Please, let me know if you have any other question. I would like to help you to have light and music on your hiking!!!
Carlos
---
I'm doing a solo month-long hike in the Sierra this summer, and am really looking forward to no hassles with headlamp batteries. Realizing that I could bring some music is really appealing.
My panel has a scratch on it (it came that way). I assume that's not an issue?
Also, I'm thinking about how I'll charge it, and realized that I probably don't want to use the velcro. The top of my pack will have stuff lashed onto it, depending on the weather and the fullness of my pack, so attaching the Velcro will limit the lashing (and the charging). I'm planning on sewing a holder for the panel, using quarter-inch straps, which will mean that there will be two straps crossing the face of the panel, at right angles. I'll attach clips to the straps at the edges, and that will enable me to place the panel anywhere I can attach it. Will the presence of the nylon straps damage the panel -- is there a problem with covering the panel this way?
Janet
Janet,
I'm a hiker too.
What you need is the EL8 Headlamp-Solar Panel combination plus the EA1 12 Volt Converter ($71.50) that you can buy in my website too, on this page:
http://solar-led-flashlight-usa.com/solar_led_headlamp/solar-led-headlamp-01.htm, or on this page:
http://solar-led-flashlight-usa.com/products_solar_led_green_headlamp.htm
The connection is as follows:
Option 1
Using EL8 Headlamp, already charged by the Solar Panel (included)
Looking in the page Charging Uses:
http://solar-led-flashlight-usa.com/EL8_solar_led_headlamp_uses/el8_solar_led_headlamp_uses.htm,
5th movie from top, "Charging iPod nano", look at the complete set up. From left to right we have

1st, EL8 Headlamp
2nd, EA1 12 Volt Converter
3rd, your iPod car charger
4th, your iPod

Play movie and stop when you can see all 4 components. You plug 1 Volt Converter to Headlamp (deices you buy). Then connect iPod car charger to your iPod as you normally do. Finally, instead of plugging in iPod car charger to car's cigarette lighter, you plug it to the EA1 12 Volt converter. Your iPod will start charging immediately.

Option 2
Just replace EL8 Headlamp with Solar Panel, included in kit, and follow connections above. 12 Volt Converter comes with necessary adaptor to connect Solar Panel to it.

You can see this set up in one of my videos, on this page, 3rd video:
http://solar-led-flashlight-usa.com/solar_led_headlamp/solar-led-headlamp-01.htm,
or even better, both Options in You Tube or AOL Video, at the end (about 3 min):

http://video.aol.com/video-detail/charging-ipod-with-solar-power-no-onion-charge-cell-gps/22143313

Janet, could you please tell me how did you find my website? Google, etc?

Please, please, call me, e-mail me if you still have trouble understanding how to connect or how does it work. Check the video of my last hiking in Zion Utah, on my page Charging Uses, the bottom one.

My cell: (310)592-1813. Happy to help you.

Carlos
---
Date: 16 Apr 2008

Comments:

I can't figure out from your website information which accessory I need to buy (more than one?) to charge an iPod nano. If you could tell me, and also where I can get it, I'd be much obliged.
Janet P
---
Home / Top of Page / EL8 Charging Uses / Jobsite Headlamp / Products / Charging iPod / Hiking/Backpacking iPod Charging Tips