The EL8 Rechargeable Headlamp - Solar Panel kit have been around for several years. It is the very first Solar Rechargeable Headlamp introduced to the market! As customers very often say: "no messing around with alkaline batteries any more"; not worrying about replacing batteries, or even about using the headlamp/flashlight without limits!!! When the headlamp is fully charged, its 5 bright LED can be on continuously for about 12 hrs. That makes it ideal for camping, hiking/backpacking, and any outdoors activities. We tested the EL8 headlamp under extreme low temperature, High Sierra like conditions, inside of my freezer!!!, and the EL8 was flashing for 15hrs!!! I will write about this experiment soon, in an article entitled "A hiker's survival story in the High Sierra", based on a true story. An explanation of why the headlamp lasted longer blinking on low temperature conditions than at room temperature, will follow too.
If you have the model before September 2008, do not panic! nor worry! You still have a great product! There are three major improvements on the new EL8 Headlamp, made possible by new technology.
Both headlamps look and operate exactly the same, but th ere is a slight "outer" difference; when you hold the new headlamp you have the same nice and comfortable grip felling, but LIGHTER! I remember the very first time I hold an EL8 headlamp, the first thought and feeling was: "this is too light to be true!". That almost weightless headlamp/flashlight, performed so well "in spite" of the feather like weight! I was so use to heavy-battery driven flashlights and headlamps, that I was almost skeptical about its performance!
1. The new EL8 headlamp is lighter than its NiMH battery predecessor, due to new battery technology . The Li-ion battery are not only about 0.6 oz lighter, but more powerful too. This very low weight headlamp/flashlight makes it the choice of hikers and backpackers (see "Backpackers Magazine Award" and "BackPacker Gear Guide"

2. Even though battery specifications on both headlamps are the same, my extensive testing show that the new EL8, powered by Li-ion batteries, last about 3 hours more when is on, than the one with NiMH batteries. It is about 25% more time "ON" than the former model.

3. The last improvement is in the Solar Panel. The new one has about 33% more power than the former silver one, and its color is black now. This new solar panel delivers a maximum current of 135mA at about 5.2 Volts; the first EL8 silver solar panel delivers a maximum current of about 95mA.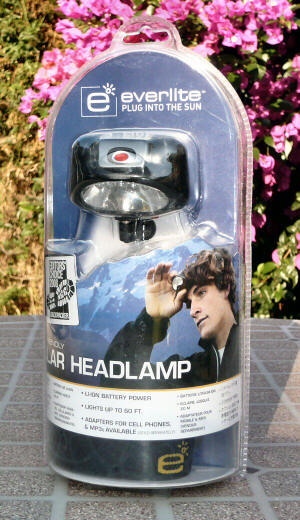 4. There is another difference/improvement, not in the performance, but in the package; and I do not mean the new color or shape. The solar panel is connected to the headlamp inside the package! and since the solar panel is exposed to the light, through the clear plastic/package, the headlamps are constantly being charged by them! Yes, the solar panel can provide charging current even with artificial light from fluorescent, incandescent lamps, or indirect sunlight from windows or skylight in warehouses. Testing the first ten new EL8 headlamps inside of the package, 7 of them were almost fully charged, two about 50% charged, and only one did not have any charge.
The four modes sequencing push button is accessible through an small opening on the package, right above it.
With all this information we can present some of the advantages of the new EL8 headlamp:
Provides about 1/4 more light-time

Very convenient for long hikes due to its lighter weight. If you have ever hiked more than four days,
you know that you will get ride of ANY extra weight in your extended trip!

Shorter headlamp charging time with the new solar panel, when this providing the maximum charging current (sunny day, and solar panel perpendicular to sunlight)

More battery capacity to recharge iPods, GPS, Cell phones, and other hand held electronics

which means you need less charging cycles to charge your iPod or cell phone
Lets talk about the solar panels. The new one is black, instead of the silver on the first EL8; we mention this just to differentiate them. This new solar panel has ten strap holes, instead of a 2x3 inches of sticky velcro on the back. This improvement gives you different options to strap or fix the solar panel to your backpack, a tree, a tent, you bicycle, etc. You can still attach a piece of velcro on the back, like the first model, and have both options to hold it. (see pictures of "solar panel holder" created and tested by Janet, and experienced hiker, who collaborated and helped in the development on the "Solar iPod Charger").
The new solar panel has six small round holes, 5/16' in diameter; four at the corners, and two on the long side, in between the corners. It also has four elongated holes, 1 1/4" x 5/16", on the long sides and in between the round holes. Those ten holes gives you a vast number of strapping options, when you need to hold the solar panel. Of course, when you are hiking, every thing goes! (see next picture)
Two of my customers went to a four weeks hiking, taking two new EL8 headlamps, only one solar panel (as I mentioned before,
no unnecessary weight allowed on long hiking trips!), an EA6 USB adapter, modified by us to be suitable for charging iPods, and their iPod 80GB video!!!
As you can see, the Solar Panel is nicely hooked through that side-upper strap on the back pack. Elegant and efficient!

By the way, they were able to bring their favorite songs, music, podcasts, and videos with them:

"we kept the iPod charged easily" they e-mailed me

The famous West Coast Trail on Vancouver Island

in British Colombia Canada

What a way to recharge the EL8 Headlamp!!!
As you read the hikers report, the EL8 Headlamp is also an iPod Solar Charger. This couple of hikers contacted me in June, asking if the EL8 headlamp could charge their iPod 80GB video on an extended hiking trip they were planning. Two weeks later I received the first ten new EL8. I went to a store and I tried to charge any thing that was on my way!!! I did it, and I was able to charge an iPod Classic 80GB video, an iPod Classic 160GB video, an iTouch, and the latest iPhone too!
To me the EL8 Headlamp is not just a flashlight or another source of light, it is an almost every day emergency Solar Charger when I am in the city, and "the Solar Charger" when I am outdoors or on vacations.
Can you image what could happen if any of my two teenager daughters have their iPods out of battery charge, when we are walking around town on vacations? Or their cell phones die and they get their communication channel interrupted? Ten years ago nothing would happen. Things took just a little longer to happen. Now days, could be a crisis!!!
Well, we have to acknowledge that cell phones and iPods are very useful and a new standard for this generation, and for us too!!
The EL8 wonít fully charge iPods, iPhones and cell phones in one sitting, but it certainly will get you out of trouble more than once.
Think about this: the majority of people have at least one flashlight in their car. It comes in handy, not only in emergency situations, but just change a fuse at night, change a tire when itís dark, look for some missing thing inside of the car, take it to the hotel or rented house when in vacations, a walk at night, "a swim in the lake at midnight" as one of my customers e-mailed me!, strap it in the front or back of a bicycle, and many other nocturnal activities. Why not to have a flashlight/headlamp that is solar, rechargeable, very lightweight and small, LED efficient, and at the same time solar charger for your iPod, iPhone, cell phone or Blue Tooth? No power outlets, computers, or car-cigarette lighter needed; portable and easy to carry!